Exploring Pops' future location: the Bell Tower Green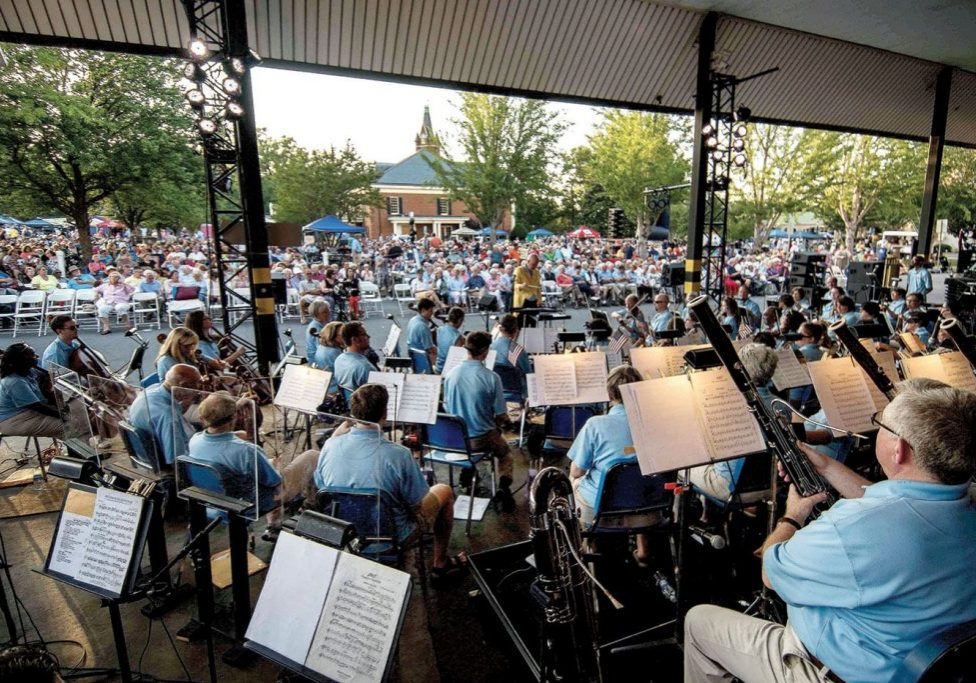 When Jason Walser takes the Bell Tower Green show on the road, so to speak, he often starts out with an aerial photograph of downtown Salisbury.
It reveals a beautifully built environment, Walser says. But there's no river, no mountains, not a lot of trees, not a lot of green space. Period.
Bell Tower Green promises to change the look of future aerial shots of downtown and could be the catalyst for other projects — the Empire Hotel comes to mind — that bring more residential living to the central business district.
The 3.6-acre city block bounded by West Innes, South Jackson, West Fisher and South Church streets will be transformed into an oasis of trees, shrubs, gardens, brick pathways and maybe even a water feature.
It will be a place to play, a place to relax, a place for big events, a place for small programs. It will seem part town commons, part Hurley Park.
Bell Tower Green owes its name to the Bell Tower, a city landmark that rises above the site, and the large circle of green — a full acre of lawn — that will be its dominant feature.
You might be visiting Bell Tower Green to buy produce at the Saturday morning farmers' market. You might be listening to a musician behind the Bell Tower. Your children might be exploring a play garden. You could be lounging with your dog on a blanket, eating at a table outside the Wrenn House, or listening to the Salisbury Symphony during Pops at the Post.
Walser sees Bell Tower Green as a place where things are happening all the time, where people will feel safe, where dog walkers are welcome and where people can still be on their digital devices thanks to its Wi-Fi.
"We are committed to making it a quality park, and we have every intention of doing it," Walser says. "I think it's going to be good for our economy. I really do."
A master plan (probably 90 percent complete) is in place, and Walser has been sharing it during his increasing number of presentations on behalf of the nonprofit organization set up to raise money and oversee the park's development.
"We don't have it all figured out," Walser stresses at those meetings.
Salisbury philanthropist Fred Stanback put up $1 million in the beginning and asked that any park development serve the community's needs and be "as green as possible," Walser said.
Walser estimates a fully developed park, as envisioned by the board, might take $7 million to $9 million. Substantial money already has been raised, but Ed Norvell and Paul Fisher will be heading a more public fundraising effort for the park soon.
The board also wants to establish an endowment for Bell Tower Green, similar to that for Hurley Park, that will ensure its ongoing maintenance once everything is planted.
Some $4 million will be directed toward construction at first, and Walser says much of it will be spent on infrastructure. Plenty of money will be going into things underground, for example. Street modifications and brick pavers alone will cost $1.5 million.
"It's not cheap," Walser says.
The first phase of construction starts this summer after the annual Pops at the Post concert. Walser says it will take 18 months to finish Phase 1, which will work toward "getting it green."
The current master plan serves as a guide for building infrastructure and raising money.
The fine details are still being worked out, but Bell Tower Green will have a quarry pavilion that includes public restrooms. They will be designed nicely into the landscape, according to Walser, but it's something downtown merchants said is needed.
There will be a children's play area — not a playground, Walser stresses.
South Jackson Street will be designed so that it can be closed to traffic whenever the farmers' market is open. There will be no permanent structures for the market, but some temporary covers or canopies might be employed.
Walser says it is hoped the Wrenn House can be home for some kind of food service, but that may not happen until later.
"We kind of thought if we build it, they will come," Walser says. "So Phase 2, I would say."
A stage will be built in a curve of the circular commons. It will face the library and First United Methodist Church.
Down the road, when the downtown park's construction is complete, ownership of Bell Tower Green probably will transfer to the city of Salisbury, Walser says.
"We want to get it as far along as we can," he adds.
By Mark Wineka
This article was originally published at: