Bell Tower Green Park in sight of fundraising goal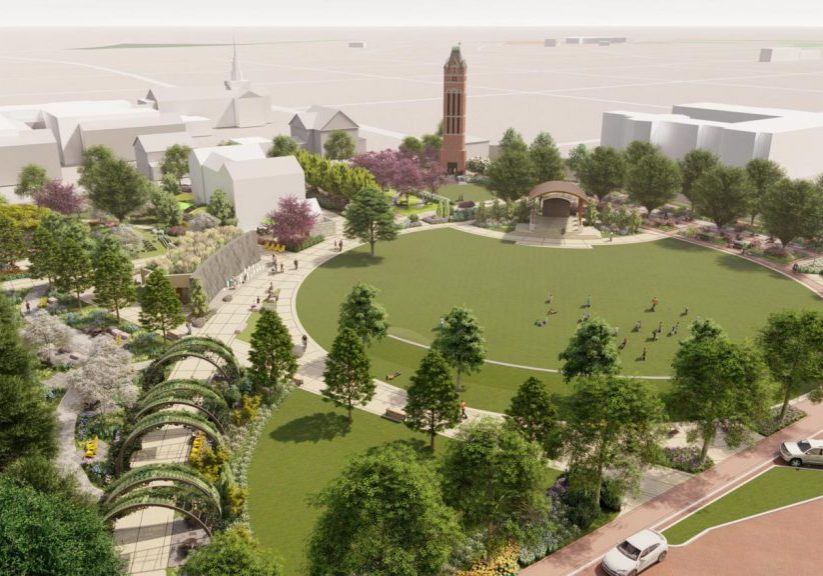 SALISBURY — While it has reduced its fundraising goal because of COVID-19, Bell Tower Green Park is now $600,000 shy of having enough money to complete the project.
In a letter to donors last week, Bell Tower Green President Dyke Messinger said 315 families or individuals have donated about $11.37 million to the downtown park's construction. But fundraising, he said, has been hit hard by COVID-19. Individual donors are protecting their financial assets and all levels of government have seen reduced levels of income and dramatically increased health and human service needs, Messinger wrote.
As a result, the board overseeing Bell Tower Green Park has eliminated brick pavers on Church, Fisher and Jackson streets, which will save $500,000. While the park's plan maintains the same number of parking spaces around the park, there will no longer be brick-lined streets in the block around the park.
"Given the economy, people have just been hammered," Messinger told the Post, "and we just could not see a way to do the brick pavers."
But even with those changes, the project is $600,000 short. In sight of the finish line, Messinger said the park's board is preparing a fundraising campaign in hopes of avoiding any further cuts.
"When you design and build a park like this or any sort of a community space, it is our belief, and the city is in agreement, that it's extremely important to do it well the first time," he said. "If you have to cut corners, that shows up in the end product. Ordinarily, those things never get corrected. Then, you end up with something less than you really should have."
The master plan for the park calls for the transformation of what was previously a large parking lot into a park with more than 150 trees, a large water wall with a splash pad, flower beds, a children's play area and a performance stage with a roof. One of the largest features of the park will be a circular, flat green space. Once complete, scheduled to be this fall, it will play host to events like Pops at the Post.
Traditionally, the event involved the symphony gathering on the Salisbury Post's loading dock and onlookers gathering on Church Street and in the adjacent parking lot. The start of the park's construction forced a move to the N.C. Transportation Museum last year. COVID-19 moved the event to online-only this year.
"We've always said this is the place where we would come together as a city. And on the backside of the pandemic it's even more important," Messinger said. "You can come and you can feel something different. You can experience life in people in a different way. I think as people start to move around more comfortably, they're going to want to be in a place like this."
Wet weather in recent months has contributed to some delays in the park's construction. There also have been delays associated with obtaining materials and workers wanting to stay at home during the outbreak. Weather and donations permitting, the end of September is still the target for park completion, Messinger said.
An anonymous donor has promised to match up to $100,000 in public contributions with a separate $100,000 donation.
Messinger said he's optimistic that Bell Tower Green will reach its goal. He encouraged people who have already donated to talk to their friends or acquaintances about doing the same.
"We're going to find a way, and we're going to keep hammering without bludgeoning people," he said.
To learn more or to donate to the park's construction, visit https://belltowergreen.com/give/.
This article was originally published at: